volctl
About
PulseAudio-enabled tray icon volume control and OSD for Linux desktops.

I couldn't find a simple tray icon that allows to control multiple applications easily from the task bar. So I wrote my own.

The program is written in Python using GTK+. Bug reports and patches welcome!

It's not meant to be an replacement for a full-featured mixer application. If you're looking for that check out the excellent pavucontrol.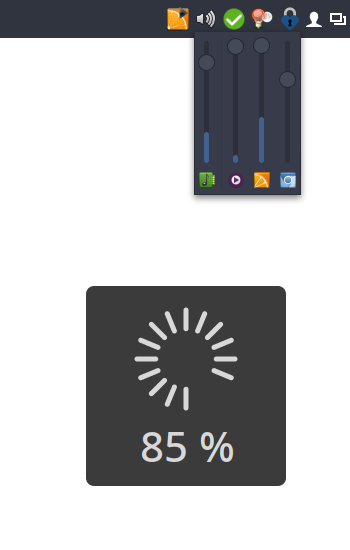 Features
Runs on virtually every desktop environment (Needs to support the freedesktop system tray specs)
Control main volumes as well as individual applications
Shows applications icons and names
Per-application VU meter
Double-click opens pavucontrol
Mouse-wheel support
On-screen volume display (OSD)
Installation
Manual installation
Clone this repository somewhere and cd into it.
To install: sudo ./setup.py install
Note: You might need to copy data/apps.volctl.gschema.xml to /usr/share/glib-2.0/schemas/ manually.
For the application icon to show up in the menu: sudo update-desktop-database
Compile GSettings schemas: sudo glib-compile-schemas /usr/share/glib-2.0/schemas/ or sudo glib-compile-schemas /usr/local/share/glib-2.0/schemas/
Arch Linux
Available in AUR: volctl
Dependencies
pulseaudio
python-gobject
License